The 2016 IDF World Tour kicked off under perfect weather to a huge crowd at the home of Australian Downhill – Mt Keira. The Brazilians started 2016 right where they left off with Max Ballesteros taking the win in a photo Finish from Australian Jackson Shapiera and fellow Brazilian Douglas Dalua who finished in a dead heat for second with Australian Brennan Bast taking 4th.
The Consi final saw a battle for top spot between Jimmy Riha and Thiago Lessa with the American edging out his rival for the win and 5th overall with American Tanner morelock taking 7th and 2015 Junior Champion Alex Charleson showing he can certainly mix it with the big boys taking out 8th spot.
Douglas Dalua (1.46.069) traded places with Max Ballesteros (1.46.089) in qualifying to take top spot and the shootout cash with another Brazilian Thiago Lessa (1.46.418) taking third. Brennan Bast was the top placed local in 4th (1.47.239). Tanner Morelock rounded out the top five in 01:47.382 from 2015 Junior World Champion Alex Charleson 1.47.493. Veteran Aussie Jackson Shapiera claimed 6th spot (1.47.524) from countryman Josh Evans 01:47.540 with USA duo Jimmy Riha 01:47.696 and Colorado rider Aaron Hampshire (01:47.736) rounding out the ten.
In the Women's USA's Emily Pross (1:48.583) converted her top spot in qualifying for the race win to start off 2016 with maximum points from New Zealander Elissa Mah and Australian Maga McWhinnie. With Emily Pross showing such sublime form early in the year and qualifying deep into the Top 20 in the Opens division it was hard to see her getting beat. New Zealand duo Ellissa Mah (2nd) and Grace Wong (4th) battled hard all weekend against the Australians Maga McWhinnie (3rd) and Gemma Holland (6th) with American Julia Barklow landing in 5th spot.
Hong Kong's Robert Burns looked to be commanding the Junior's category with a blistering top qualifying run of 1:53.553 from Australian Jaydon Howarth (1:54.057) before the Asian rider came dramatically unstuck in the semi-finals on what was a choppy camp corner surface and was carted off in the meat wagon to open the door for the Australian. Jaydon Howarth didn't need to be asked twice, as he dominated both his heats and the Junior final to take out the win from countryman Zane Bonser and American patrick Wilkinson.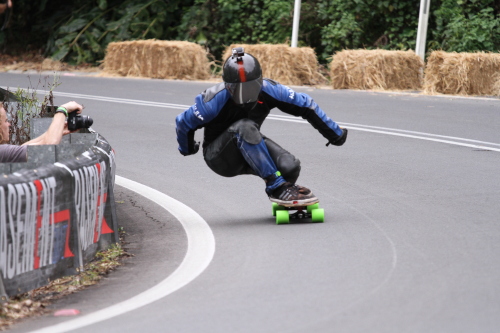 In a very strong field Malaysian Abdil Mahdzan (1:47.485) battled throughout qualifying with Australian Graham Brittain (1:49.100) and than moved that battle straight onto the race track before collecting the win in a closely fought battle. young Mike English showed great form across the weekend to take 3rd spot and a podium finish from fellow Australian Julian Slaney. Wollongong Local and australian luge veteran Nic (sidecar) Mckirdy came out on top in the Consi Final to take 5th spot from Lance Evans with Daniel Newton and Mark Anderson rounding out the top 8.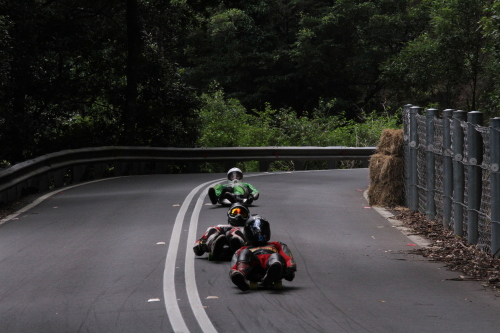 In the new Masters category for 2016 Adam Yates blistered through qualifying to take the top time in 1:50.436 before trading places with Australian downhill legend Ben Hay (1:52.470) with the local NSW rider taking out the final, the, trophy, and the cash. Yates was cleanly in second from Ryan Nicholls who battled hard for 3rd spot from Jeremy Rogers 4th
A big shoutout to Rob McWhinnie (do epic shit) and Ben Rainford (Shredhead Media) for providing the images