The Skateboarding For Hope National Tour, supported by DC Shoes Africa, is stoked to head to YBF Skatepark in Bryanton (JHB) for its fourth stop of the 2016 season.
With a focus on empowering youth through skateboarding, Skateboarding For Hope aims to reach underprivileged kids throughout South Africa by introducing skateboarding as a powerful, positive alternative to destructive lifestyle choices that provides a sense of purpose and self worth.
Skateboarding For Hope also welcomes back its South African amateur contest series by offering cash and product prizes for skate competitions in the 13- and 14+ age categories.
The TopGrom (ages 13-) division will feature a jam format skate contest yielding prizes for the top 3 and a wildcard entry to the KDC TopGrom Championships in October at Kimberley Diamond Cup.
The Open Division (ages 14+) offers a quick, to the point, tricks for cash jam, giving more opportunity for everyone for a chance to come up on some cash. The 14+ division contest will not yield a wildcard entry at this stop. Open division wildcard entries must be obtained at one of our KDC Grand Slam Regional Qualifier events and select Skateboarding For Hope stops. Click here for a full list of events and wildcard events.
The action starts off at 11:00am, don't miss out!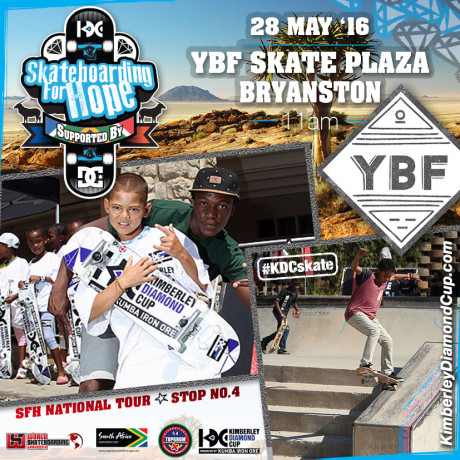 10 – 11 am TopGrom Registration ( 13 and UNDER ) & Free Skate
11 am SFH Kids Arrive
11:15 Intro to skateboarding / Skate Clinic & Demons / Life Skills Talk
12:45 13 Years & UNDER QUALIFIERS ( TopGrom )
13:30 Lunch & 14 and OVER Registration
14: 00 13 years & UNDER FINALS (TopGrom)
14:30 TRICKS for CASH (14 and OVER)
15:00 PRIZE GIVING
The post Skateboarding For Hope National Tour Heads To YBF Skate Plaza (JHB) This Saturday appeared first on Kimberley Diamond Cup.