The 3rd KDC Grand Slam Regional Qualifier event of the 2016 will be held at Vilakazi St. in Soweto to celebrate youth day with an incredible day of skateboarding and good vibes. Serving as a qualifying event for the South African Skateboarding Championships at Kimberley Diamond Cup, events will be held in the TopGrom (ages 13-) and Open Division (14+) categories, looking for the top 5 previously unqualified skaters in each respective division to send to KDC this October. Additionally, the top placing team of 4 skaters in the Rider Cup division will land their team a spot in the Rider Cup Championships.
Skaters who wish to compete can pre-register by sending an email to riaan@saskatefed.co.za or register in person on the day of the event. Check out the schedule of events below.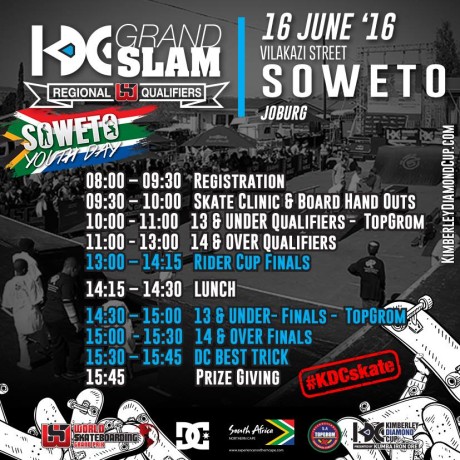 The post KDC Grand Slam Johannesburg Regional Qualifiers Head To Soweto For Youth Day (16 June) appeared first on Kimberley Diamond Cup.