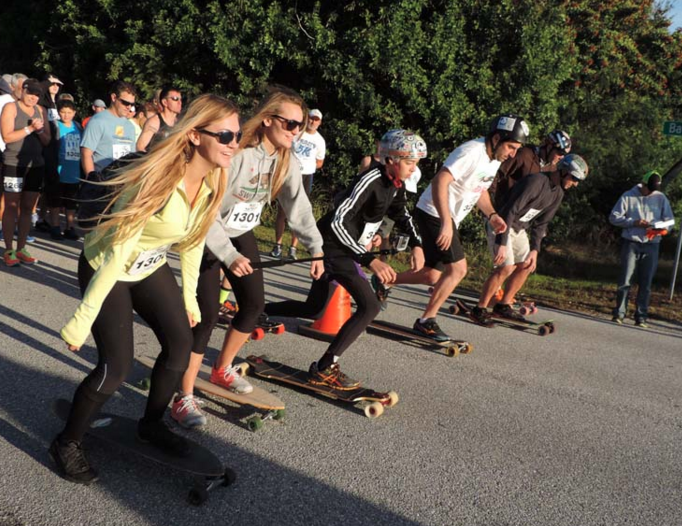 Parking:
Think green and carpool! Parking directions will be posted and emailed prior to the event.
Pre-Registered Participants:
Event Packet will be available at The Foot Landing, 117 Herald Court, Suite 1112, Punta Gorda, FL 33950 starting January 25 until January 29. 10 a.m. to 6 p.m.
Timeline:
Event Registration starts at 6:00am to 7:15 for the Half Marathon and will continue for all events
7:15am Yoga Warm Up Stretch with Jennifer French, Yoga Sanctuary
7:30am Longboard 13.1 mile Race – This IDSA Sanctioned Race will follow the same course as the 1/2 Marathon runners. Participants must be members of the International Distance Skateboard Association (IDSA). Visit www.IDSA.org to join. Membership number must be included on the registration form.
7:45am Half Marathon Race – The running course begins on Bayshore Road, adjacent to Bayshore Life Oak Park. Runners will follow the Bayshore Road east, turning south and running over the Gilchrist Bridge (right lane will be closed to vehicle traffic). Runners will then turn right on West Retta Esplanade. The turnaround is a Ponce DeLeon Park, returning to Bayshore Live Oak Park.
Event Hotline: (941) 575-5435
½ Marathon Run and Longboard Event
Pre-Registration – Nov 2, 2015 to January 15, 2016
$75.00
Complimentary Pancake Breakfast provided by the Charlotte County Fire/EMS – MDA Committee. Tips will be accepted as donations to Muscular Dystrophy Association (MDA).
Hands Across The Harbor t-shirt (T-shirt not guaranteed if you procrastinate).
Awards, Chance to win Door Prizes.
Chance to win a 2016 Getaway Vacation Package – Two night stay at the Hyatt Regency Coconut Point Resort and Spa plus a $200 hotel gift card.