Excitement is expected at the first TRACKER-Forty Years of Skateboard History book signing which will be more like a reunion of many long time skaters and friends. The event takes place in Oceanside, October 24, 2015 at the California Surf Museum (CSM), 312 Pier View Way at 6:00 pm. Expected to be in the house to join the author Larry Balma, will be the Tracker Trucks team managers, Lance Smith, Buddy Carr and Bryan Ridgeway who over Tracker Trucks forty plus years of skateboard innovation amassed the largest skateboarding team in history. Dave Dominy who co-founded Tracker, book designer Garry "GSD" Davis, premiere photographer Grant Brittian, The Logans "first family of skateboarding", Jim Gray and the Orange County posse, and so many more of the Tracker family will come in celebration of the books debut. Admission is free to this event as well as to the opening of CSM's new skateboarding timeline exhibit showcasing the history of skateboarding from planks to popsicles.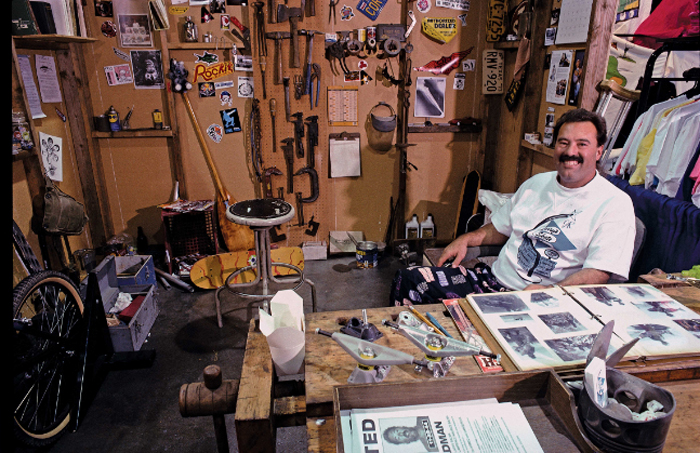 Author Larry Balma 1990 in his shop

Back in 1975, the Tracker Fultrack was the first truck in history made specifically for skateboarding by skateboarders to incorporate high quality, performance and strength. Trackers truly were (and still are) the Trucks You Can Trust. On Tracker's 40th anniversary, those four words continue to be the driving force of the brand. TRACKER – Forty Years of Skateboard History is a hefty 388-page hardcover book full of photos and stories about Tracker and its rich history straight from the people who worked there, as well as the professional riders and photographers who made Tracker a major icon in the skateboard world.
The origin of Tracker Trucks dates back to 1974, when Tracker founders Larry Balma, Dave Dominy and Gary Dodds made the first prototypes. As Larry tells the story of Tracker's formation at San Diego spots like La Costa, the Escondido Reservoir and the Kona Bowl, and about how the brand's many innovative trucks and related products came to be, forty-four of Tracker's top riders chime in with colorful recollections and revealing, behind-the-scenes insights. Rounding out this massive book are plenty of unpublished photos; a detailed skateboard history timeline; chapters on the Dogtown influence, Rockit Skateboards and Tracker's other decks; a big scrapbook containing photos and quotes from the Tracker team; and way more.
Foundry Press, 517 Seagaze Drive unit 88, Oceanside, Ca 92054
Publisher of TRACKER-Forty Years of Skateboard History, in Oceanside California, website: trackertrucks.com