Built by skateboarding since 1986, etnies is known for creating the first pro model skateboarding shoe – the Natas. During that time, the Natas shoe was groundbreaking and placed at the forefront of skateboard footwear innovation. Thirty years later, the ethos of etnies remains the same. Performance footwear built by skateboarding. Three decades deep and etnies is still at it. With the same innovative spirit that inspired the Natas shoe in 1987, the Marana XT was created to push the boundaries. Building on all of the tech advances since the release of the Natas, the Marana XT defines progression and durability with pro Chris Joslin's style of 'no limits' skateboarding. The next 30 years begins with the Marana XT. Check out the Marana XT in action here: https://youtu.be/HgSUmMEQOTE.
Remaining independent and existing solely to meet skateboarders' demanding footwear needs, etnies has pushed the envelope of durability and performance again with the technologically advanced Marana XT that offers:
Durability: The original Marana rubber toe cap was an industry first, and the new flow-molded toe cap on the XT is 3x more durable, without compromising the importance of good flick.

Performance: The incredibly grippy 400 NBS outsole tread inspired by the original Marana was beefed up with added herringbone.

BIG as FUCK: The impact resistant STI Evolution® Foam exposed midsole is made to endure Joslin-sized skateboarding.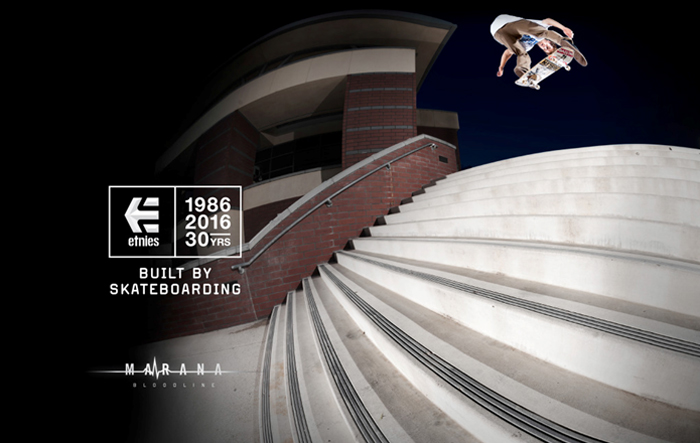 Chris Joslin's non-stop approach and humble beginnings personify the future of etnies skateboarding.
BUILT BY SKATEBOARDING
etnies has always been focused on the future. A relentless pursuit of what's possible, what's not and consistently pushing the boundary.
If the results of having a relentless focus on skateboarding footwear for the last 30 years are any indicator, the future of skateboarding will be pinnacle.
Stay connected with etnies to see what #BuiltBySkateboarding really means here: etnies.com
Facebook: facebook.com/etnies
Instagram: @etniesskateboarding
YouTube: https://www.youtube.com/etnies
Twitter: @etnies