Mauritz Armfelt won Almabtrieb, with fellow Swede Adam Persson taking second relegating Brazilians Thiago Lessa and Douglas Dalua to third and fourth. While the North American races featured a running battle between Colorado and Brazil, in Europe the Coloradons have been replaced by the Swedes.
The Austrian summer morning began very cold – at the finish line it was only 9 degrees. The sun hardly showed but this didn't keep the B-bracket riders from charging the hill, with Patrick Lombardi, Marcus Aldinucci, Tommaso Bohannon and Jürgen Gritzner fighting through to a spot in the final 128, and a chance to race the big guns.
The early rounds threw up some surprises; Erik Lundberg was eliminated in the first round, footbrake king Aleix Gallimo and Lilyhammer Masters winner Pete Connolly got knocked out in the second run, fastest qualifier Riley Irvine in the third, Junior World Champ Alex Charleson, Brazillian Ian Freire and German favourite Sebastian Hertler in the quarter finals.
The semis were tight as always, with local Nicola Nührig eliminated by Mauritz Armfelt and Thiago Gomes Lessa.
The final consisted of aforementioned riders and Adam Persson and Douglas Dalua; Sweden versus Brazil, a battle of titans, in which the Swedes got out on top:
1. Mauritz Armfelt (SE)
2. Adam Persson (SE)
3. Thiago Gomes Lessa (BR)
4. Douglas 'Dalua' Silva (BR)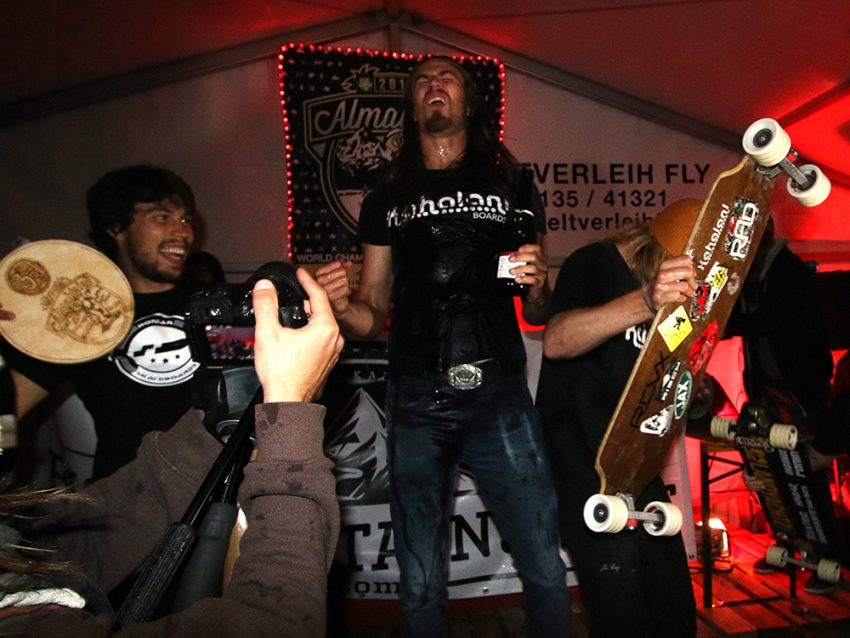 The masters category (35+) featured a high-quality field, with Canadian legend Nico Desmarais triumphing over Australian Ben Hay and and Pete Connolly of Great Britain.
1. Nicolas Desmarais (CA)
2. Benjamin Hay (AU)
3. Pete Connolly (GB)
4. Remy Amsalem (FR)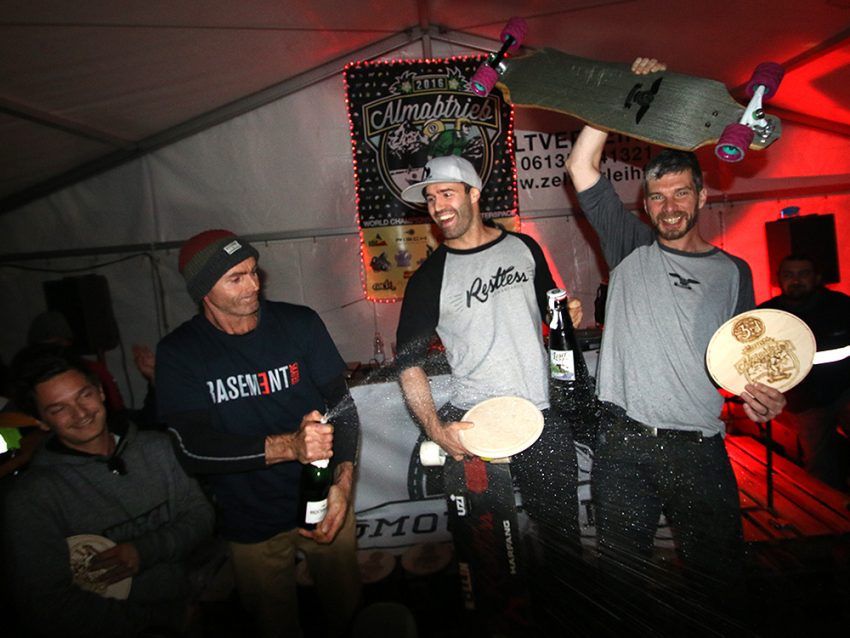 Emily Pross maintained her unbeaten record this year, and is a certainty for the overall World Cup championship. A big up for 'newcomer' Lisa Peters from The Netherlands, making the podium on only her second IDF race,
1. Emily Pross (US)
2. Jennifer Schauerte (DE)
3. Lisa Peters (NL)
4. Gloria Kupsch (DE)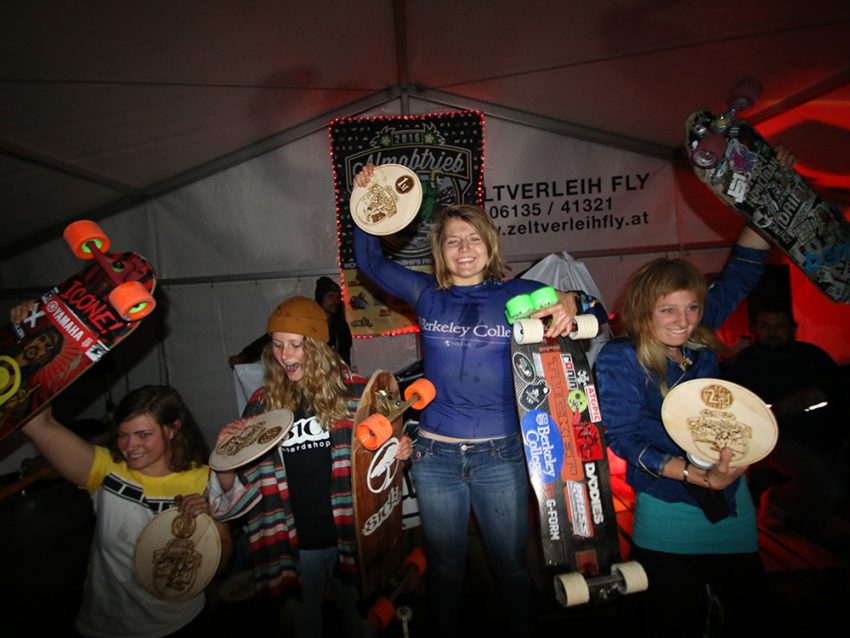 In Juniors, the North American rivalry between Ed Kiefer, Jesse Martin, and Knox Heslop was upstaged by Vojta Casek of the Czech Republic getting in front of all of them for the win.
1. Vojta Casek (CZ)
2. Edward Kiefer (US)
3. Jesse Martin (CA)
4. Marc Rovellada Ballesteros (ES)
5. Knox Heslop (US)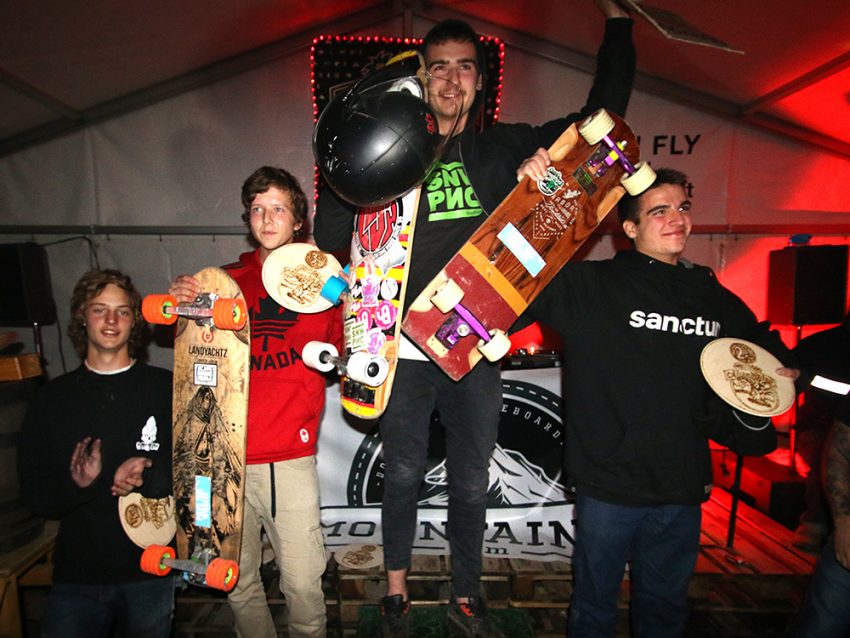 The awards ceremony began at 9.30pm by which time many riders were well and truly in party-mode in true Almabtrieb style. After several beer showers, and thank you words from Risch/BigMountainSkate there was only one thing left to do: party hard.
Day 2 – Qualifying
Morning rain prompted organisers to shorten the track for safety reasons, but the track dried for the second qualifying run, allowing some fast times to be put down. The lack of practice on a dry course created an unusually jumbled, with Riley Irvine (USA) clocked the fastest time, and many of the race favorites low down the list.
Thanks
Almabtrieb, Stephan Risch, BigMountainSkate and all the volunteers who made this kick-ass event happen and create a super atmosphere in harsh weather conditions. Thank you to all the riders who endured these conditions, you were all awesome!
All photos by Nadia/Longboardmagazine.eu
The post Almabtrieb 2016 – The Swedes Triumph appeared first on International Downhill Federation.